This store requires javascript to be enabled for some features to work correctly.
Principle
Radiofrequency is also called diathermy(deep heating) which is the system to provide the treatment by generating the heat from inside the human body. Wrinkles and loose skin can take its toll on your looks. Even healthy and active people eventually show signs of aging on their faces. Since it's the most important visual feature of your body—the one that most people will recognize you by—it's important to keep your face fresh and youthful. More and more people have tried facelifts over the years to combat wrinkles and skin imperfections. Though often successful, traditional facelifts require minor surgery and prolonged recovery periods. There's an increasing demand for non-surgical techniques to refresh facial appearances. That's where radio frequency face lifts come into play.
A radio frequency emitter is pressed up against the skin. These radio waves get past the outer skin layers and deliver heat energy to the muscles and tissues beneath. The heat helps to contract these layers and build up collagen levels. The overall result tightens up the outer layers of skin and reduces wrinkling effects. Since there's a lot of heat involved, some cooling must be applied to the skin at the same time.
The radiofrequency facelift was a non-surgical treatment for wrinkles and facial skin imperfections. It is a proven medical procedure that requires no scalpels or sutures. It's also a popular choice for busy professionals who care about their looks. The treatment only takes about an hour, and full recovery is expected in a few days. The results take a bit of time to show fully though. Some results are visible immediately, while the full results take a few months to develop as the deep tissue layers heal.
Advantage
-Outstanding effect, Three polar radio frequency
-Safty and comfortable feeling by skin sensor and matching system
-Smaller, smarter, and cost-effective RF device for at-home skincare
-The skincare device of RF home use which is safe and easy to use offers satisfactory results
-Portable and low power consumption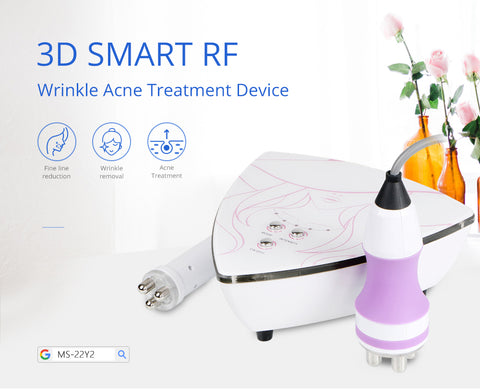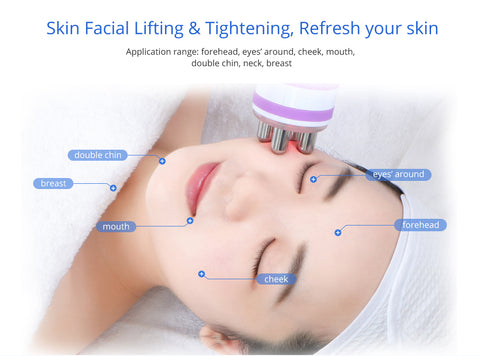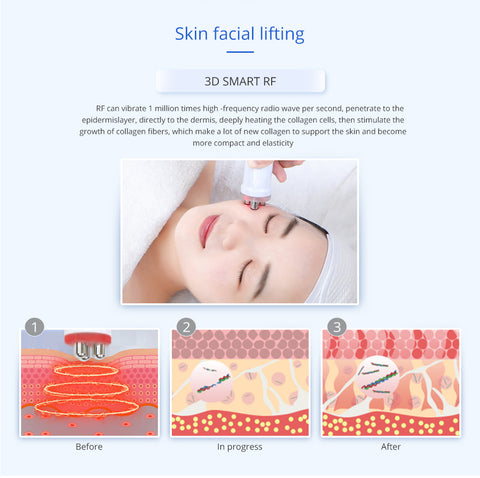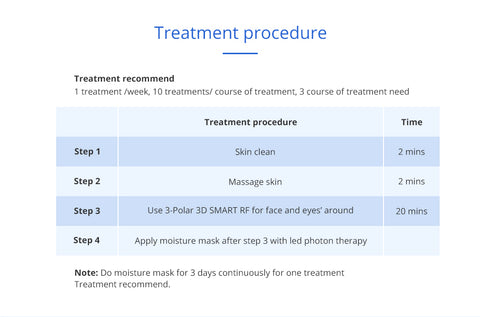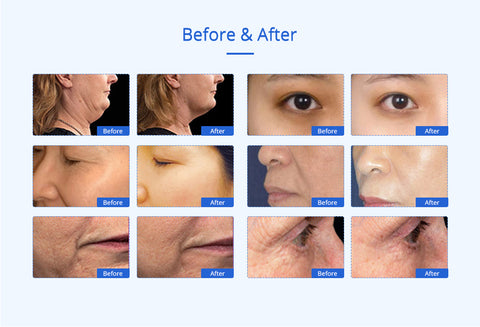 Technical Specifications
Power supply Input:100V-240V 

Quadrupole 3D RF Handle for Face and Body
Frequency:5MHz
Power:50W

Three pole 3D RF Handle for a face
Frequency:3MHz
Power:30W
Package listing
1 x Main Machine
1 x Three polar Probe
1x Quadrupole Probe
1 x Power supply cord