This store requires javascript to be enabled for some features to work correctly.
Overview
9 IN 1 Multifunction body shape contouring beauty machine combines uniosetion cavitation 2.0, 3D SMART RF vacuum suction massage, slimming rf, RF facial care technologies, is an advanced aesthetic solution for body face.
How Does 9 IN 1 Multifunction body shape contouring Beauty Machine Work?
9 IN 1 Multifunction body shape contouring beauty machine adopts the unoisetion cavitation 2.0, multipolar, lipo, microcurrent skin lifting, and cold therapy to help body sculpturing and facial lifting.
How does each technology work?
Unoisetion cavitation is a weight-loss therapy that uses low-frequency sound waves to break up fat cells, which can cause an inch of loss at the site of treatment (and ultimately, a slim figure).
The device is applied directly to the area through circular motion and improved circulation, and deep vibrations enter the cellulite, melting fat cells and allowing the lymphatic system to dispose of excess cells.

Multipolar radiofrequency technology, or Multipolar RF, is a nonsurgical skin rejuvenation therapy that eliminates stretch marks, cellulite, and other deep-rooted skin problems without anesthesia.
Also known as toning, toning and toning is an effective treatment that uses heat to penetrate fat.

Lipo treatment is completely. Lipo\'s low-level
technology has been studied and used in many biomedical fields for more than 30 years.
FDA-approved for pain and inflammation, but also for weight loss.
What Treatment Areas This 9 IN 1 Multifunction body shape contouring Can Do?
Permanently removes fat cells on the:
- Love Handles (flanks)
- Saddle Bags (Thighs)
- Buttocks
- Upper Arms
- Inner Knees
- Abdomen
- Bra line
In the Box
1 x Main Machine
1 x Cavitation Massage Handle
1x Vacuum Suction Handle
1 x 6-polar RF Handle
1 x 4-polar RF Handle
1 x 3-polar RF Handle
1 x Photon & Microcurrent Handle
1 x Cold & Hot Hammer
6 x Large LED Laser Pads
2 x Small LED Laser Pads
1 x Power Cord
Straps (1 set)
Specifications
Power Supply Input: AC 110V-220V 50Hz/60Hz

Uoisetion 40K Cavitation Handle
Frequency:40KHz
Power:30W

Sextupolar 3D RF Handle for Body
Freqeuncy:1MHz
Power:68W

Quadrupole 3D RF Handle for Face and Body
Freqeuncy:1MHz
Power:58W

Three pole 3D RF Handle for face
Freqeuncy:1MHz
Power:35W

Vacuum Biploar 3D RF Handle
Freqeuncy:1MHz
Power:75W
Vacuum: <-55 cmHg
Air flow: >10L/minute
Noise level: <60dB (30cm away)

Dimensions (when installed): 13.6*16.9*15 inch
Net Weight: 7.4 kg
Gross Weight: 8.6 kg
Display: Touch screen
What Handles Dose This 40K Cavitation Machine Have?
40K cavitation handle uses ultrasound to burst fat cells. Fat is broken down and metsbolized out of the body to reduce fat.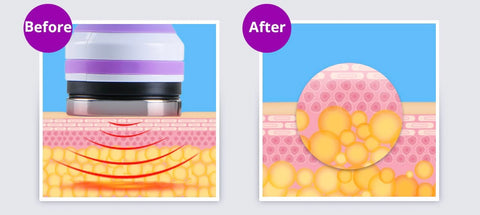 This handle combines vacuum and RF. It is suitable for massaging the body before or after cavitation therapy. It can relax muscles, improve blood circulation, and help with body shape.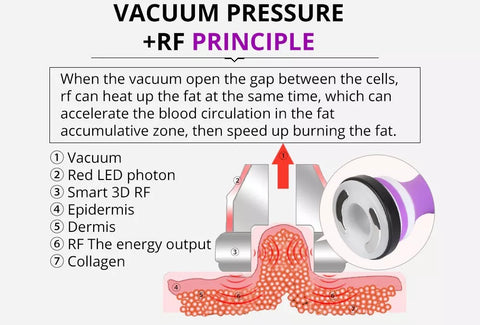 This  6in1 cavitation machine comes with three RF handles of different sizes for the body, face, and eye. It can stimulate collagen regeneration to achieve the effect of skin rejuvenation.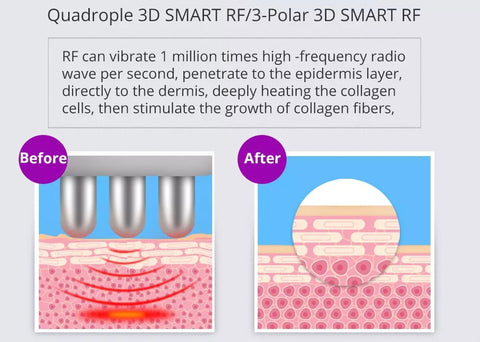 Shrink fat cells, help with body slimming.
Usually used at the end of the entire treatment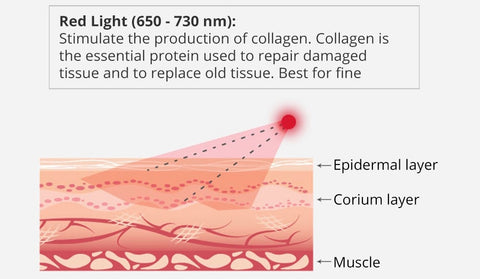 Body Sculpting Treatment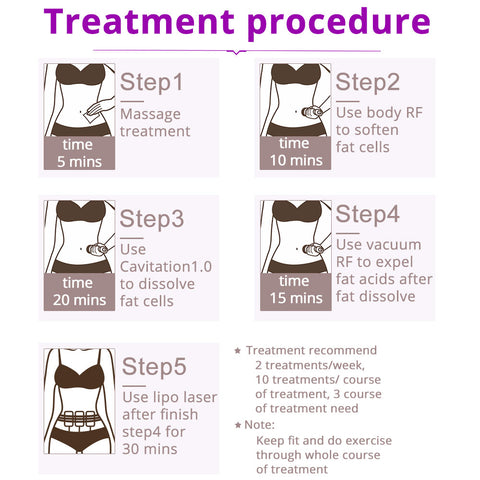 Face Skin Care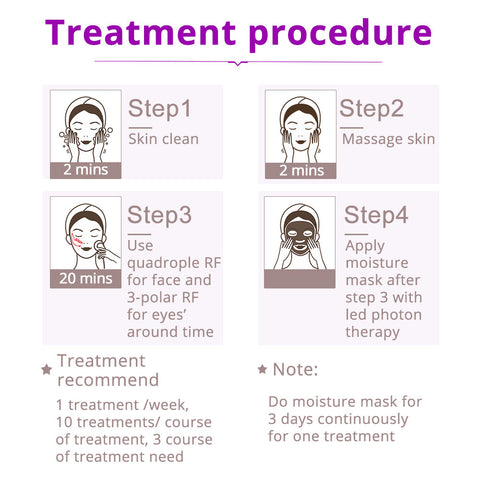 How long does it take to see results from ultrasonic cavitation?
You will notice your efficacy immediately after the first session including your skin is softer and firmer. Ideally, most patients require 10-12 treatments, and many see up to 2 inches of surface reduction only after 5 treatments. But you need to understand that each body is different, and the results vary accordingly.
FAQs
Q: What types of treatments can the 9-in-1 cavitation machine do?
A: It can provide body contouring, body massage, and lymphatic drainage, skin tightening for the face and body, complex facials, etc.

Q: Do you need to be certified to use the 9 in 1 cavitation machine?
A: As a non-invasive procedure, it's used only for facial skin care and body sculpting rather than curing any disease or pain. When providing non-invasive body sculpting services to the public, you don't need a federal license because the federal government does not regulate it. But we suggest you carefully check with your state for additional requirements before starting your business.

Q: What are the side effects of ultrasonic cavitation?
A: The impact is minimal. In some cases, your client may experience redness and bruising on the treated area, and they may feel thirsty, which can be relieved by drinking plenty of water. These symptoms will disappear after a few hours.

Q: How often can I have cavitation service?
A: We suggest 2-3 times a week for the first 2 weeks; and 1-2 times a week for the second 2 weeks. From the second month onwards, once a week is recommended.
Ultrasonic Gel ( Can be used with cavitation treatment)
Click on the picture to order Gel as well!


Hot Cream (Use it with Cavitation/ RF/ Vacuum to achieve better slimming effect)
Click on the picture to order Gel as well!

Eliminate Excess Substances In The Body 
Promote Faster Burning Of Subcutaneous Fat Tissue
Helps To Shape Nice And Attractive Body
Simply Burn Extra Calories By Increasing Your Body Circulation