This store requires javascript to be enabled for some features to work correctly.
40K Unoisetion Cavitation 2.0 Handle for Cellulite Slimming
360°Rotating Quadrupole 3D SMART Radio Frequency Handle with Photon for Face 
360°Rotating  Sextupolar 3D SMART Radio Frequency Handle with Photon For Arm/Leg
360°Rotating Octupole 3D SMART Radio Frequency with Photon for Body Massage Slimming 
Vacuum&Bipolar Radio Frequency Handle with Photon for Body 
Microcurrent+Photon Handle for skin care
Cold Hammer for calming down the skin and shrinking pores

3D Smart Rotating Radio Frequency
- 360-degree rotating Radio Frequency is the newest treatment technique available to effectively tighten sagging skin reduce wrinkles improve skin's elasticity and brighten skin tone.
- 360 Degree rotating Radio Frequency offers a unique massage therapy with an automatic rotating-head function maximizing the penetration of Radio Frequency energy in the treatment
-Intelligent massage combined with handle rotation, more comfortable
-The rotating Radio Frequency probe has the function of massaging and removing fat, which can better promote fat-dissolving and shaping
-Three rotating Radio Frequency probes of different sizes can act on full-body

What Is Radio Frequency Unoiestion Cavitation 2.0?
Unoisetion Cavitation 2.0 is offering a new treatment that we believe can potentially replace traditional cavitation. Unoisetion customers can get results they are satisfied with, without having to undertake buzzing and noise in their ears
Benefits can include:
A. Safety
Unoisetion New Cavitation Technology--Annoying noise in ears caused by cavitation will be reduced 3 times, the clinical data indicated, a more comfortable weight loss experience for you

B Intelligence
Intelligence frequency adjustment technology can adjust the frequency according to the temperature of the derma during fat dissolve, people will not feel hot during treatment.

C Long lifespan
As we all know, more hotter the cavitation head, more shorter lifetime for cavitation head, so about 10 times working time can be prolonged by this new intelligence frequency adjustment technology and result in much money saved

D Incredible Results
On the other hand, the output power will be enhanced and its effective result can be seen fast

E. Digitization calibration
unionization utilizes intelligent calibration technology which means it can adjust the frequency during the whole treatment and calibrate the error of frequency by itself to make the output frequency keep the same frequency as before, in this way, the unionisation cavitation will make the result of body shape more effective(3 times as long as normal cavitation) and the handles' lifetime will be 10 times more than normal cavitation.

Benefits of the 3D rotating Radio Frequency
360-degree rotating Radio Frequency is the newest treatment technique available to effectively

 

tighten sagging skin reduce wrinkles improve skin's elasticity and brighten skin tone

.
360 Degree rotating Radio Frequency offers a unique massage therapy with

 an 

automatic rotating-head

 

function maximizing the penetration of Radio Frequency energy in the treatment
Intelligent massage combined with handle rotation, a more

 

comfortable

The rotating Radio Frequency probe has the function of massaging and removing fat, which can better

 

promote fat-dissolving and shaping

Three rotating Radio Frequency probes of

 

different sizes

 can act on full-body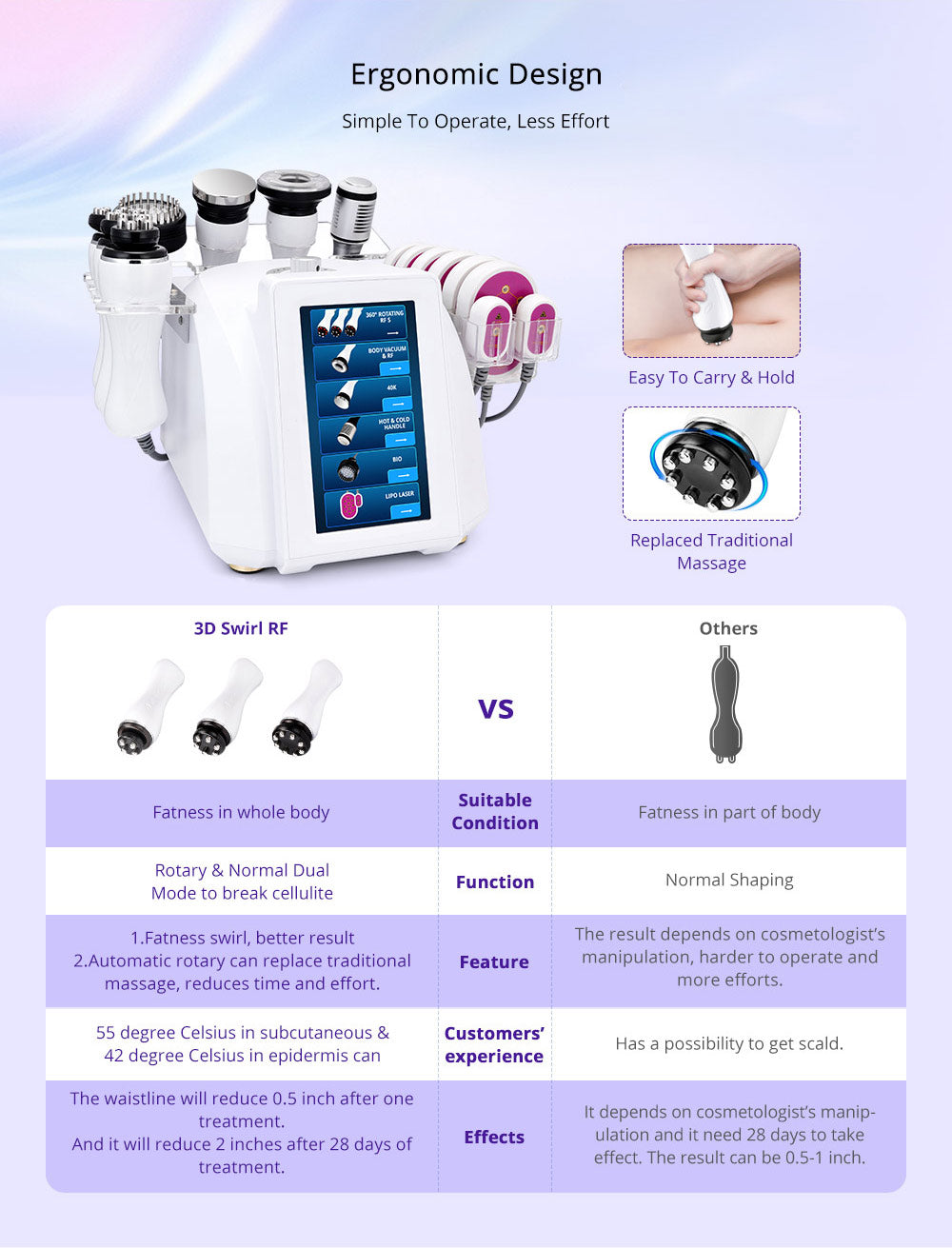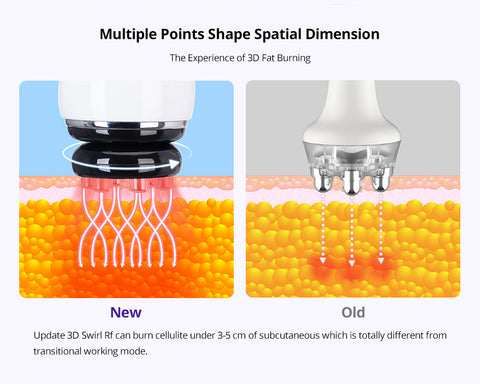 Vacuum Radio Frequency
For body and face re-shaping. Weight loss Vaccum+Radio Frequency fat-explosion machine can promote tissue metabolism, and repel the cellulite, which makes fat granule in different depths and shocking fusion energy, and the deepest receptor can get granules in 3CM thick of skin, and rapid expansion and the rapid heating of the cell wall that exceed the elastic limits and arises cells broken so that the combustion of fatty acids at the same time breaking out of a pot, not only the burning consumption of fatty acids but also more directly emptying so rapidly reduce the size of granule.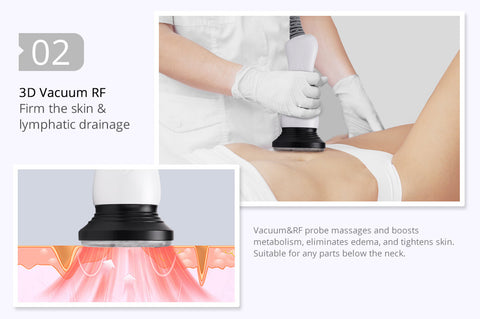 Unoisetion Cavitation 2.0 Handle?
Unoisetion Cavitation 2.0 therapy makes it possible to apply concentrated levels of unoisetion cavitation 2.0 energy to specific treatment areas. This type of therapy targets and destroys subcutaneous fat cells in the fat cell membranes through a series of microscopic implosions. Once the fat cell membrane (adipose tissue) is destroyed, the fat is discharged between the cells where they are turned into protein and then changed to free fatty acids and glycerol. Free fatty acids are moved to the liver where they decay and are removed from the body while water-soluble glycerol is transported to the circulatory system and used as energy.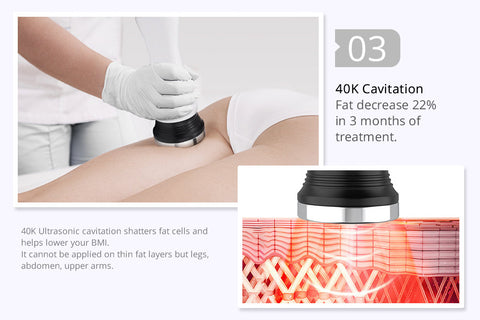 Photon& Micro Current for Skincare
The Photon Micro current Beauty Device, designed for facial beautification, uses natural light waves, which are transmitted by LED into the skin. The light activates photoreceptors in skin cells, producing energy for absorption by skin components, to beautify your complexion.

Studies show that light enters the body as photons (energy) and is absorbed by the photoreceptors within cells. These beauty care units are used to treat soft tissue injuries and skin conditions such as psoriasis, herpes, leg ulcers, burns, and acne. The spectrum of light is especially effective for treating wounds, cuts, acupressure points or other areas close to the surface of the skin. It balances skin tone and enhances circulation, inhibiting he formation of melanin pigment, fighting acne and dermatitis, and smoothing pockmarks, scars and wrinkles. This device can produce 7 COLORS and improve a lot of skin problems.

Red: The 650nm red light is for wakening and activating the skin
Blue: The 462nm blue light is for calming and diminishing inflammation.
Green: The 527nm green light is for comforting the skin.
Purple: The 600nm purple light is for toxin elimination.
Orange: The 610nm light is for Balancing and recomposing.
Turquoise: The 470nm turquoise light is for relaxation.
Yellow: The 590nm yellow light is for tightening and oxygen supply

Cold hot probe for calming down the skin
The temperature for the skin will be a little high after the treatment of the cavitation probe, vacuum probe, and Radio Frequency probes. Then use the cold probe, it helps to calm down the skin, and shrink pores.
The hot probe helps to open the pores, which will help discharge waste and promote nutrient inhalation.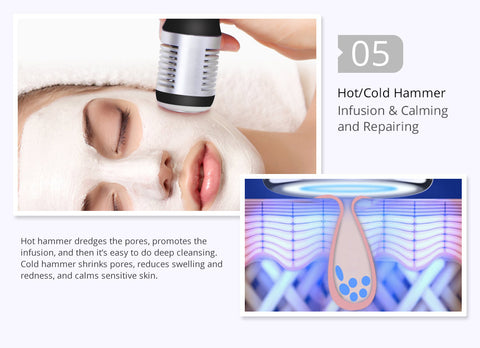 How much weight can I lose with cavitation?
Usually, you can expect 

1 to 2 inches of fat loss after the first treatment

 and up to 2 inches of loss after each subsequent treatment.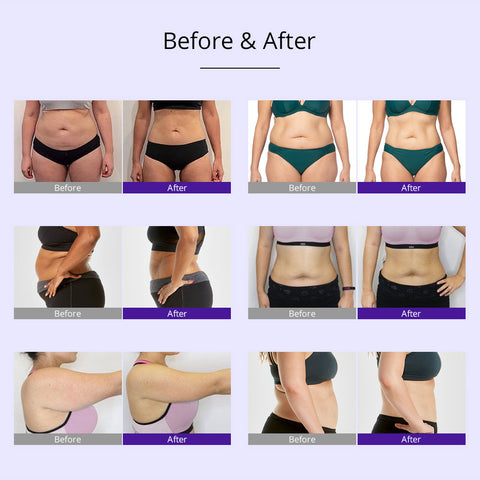 Specification
Position 40K Cavitation Handle
Frequency:40KHz
Power:20W
Sextupolar 3D Rotating Radio Frequency Handle
Freqeuncy:5MHz
Power:45W
Quadrupole 3D Rotating Radio Frequency Handle
Freqeuncy:5MHz
Power:45W
Octupole 3D Rotating Radio Frequency Handle
Freqeuncy:5MHz
Power:45W
Vacuum Biploar 3D Radio Frequency Handle
Freqeuncy:1MHz
Power:10W
Vacuum: <-80kPa
Pressure: >250kPa
Airflow: >10L/minute
Noise level: <70dB (30cm away)
Microcurrent &Photon
7 colors: Red, Blue, Green, Purple, Orange, Turquoise, White
Package Listing
1 x Main Machine
1 x 40KHz Unoisetion Cavitation Handle
1 x Vacuum Bipolar Radio Frequency Handle
1 x Octupole 3D Rotating Radio Frequency Handle
1 x Quadrupole 3DRotating Radio Frequency Handle
1 x Sextupolar 3D Rotating Radio Frequency Handle
1 x cable for 3D Rotating Radio Frequency Handle
1 x Microcurrent+Photon Handle
1 x Cold Cold Hammer
1 x Power cord Power Supply Cord( Both 110v and 220v voltage (frequency: 50/60Hz) versions are available. Also we stock the USA, UK, AU, and EU plug to suit the country all over the world.)