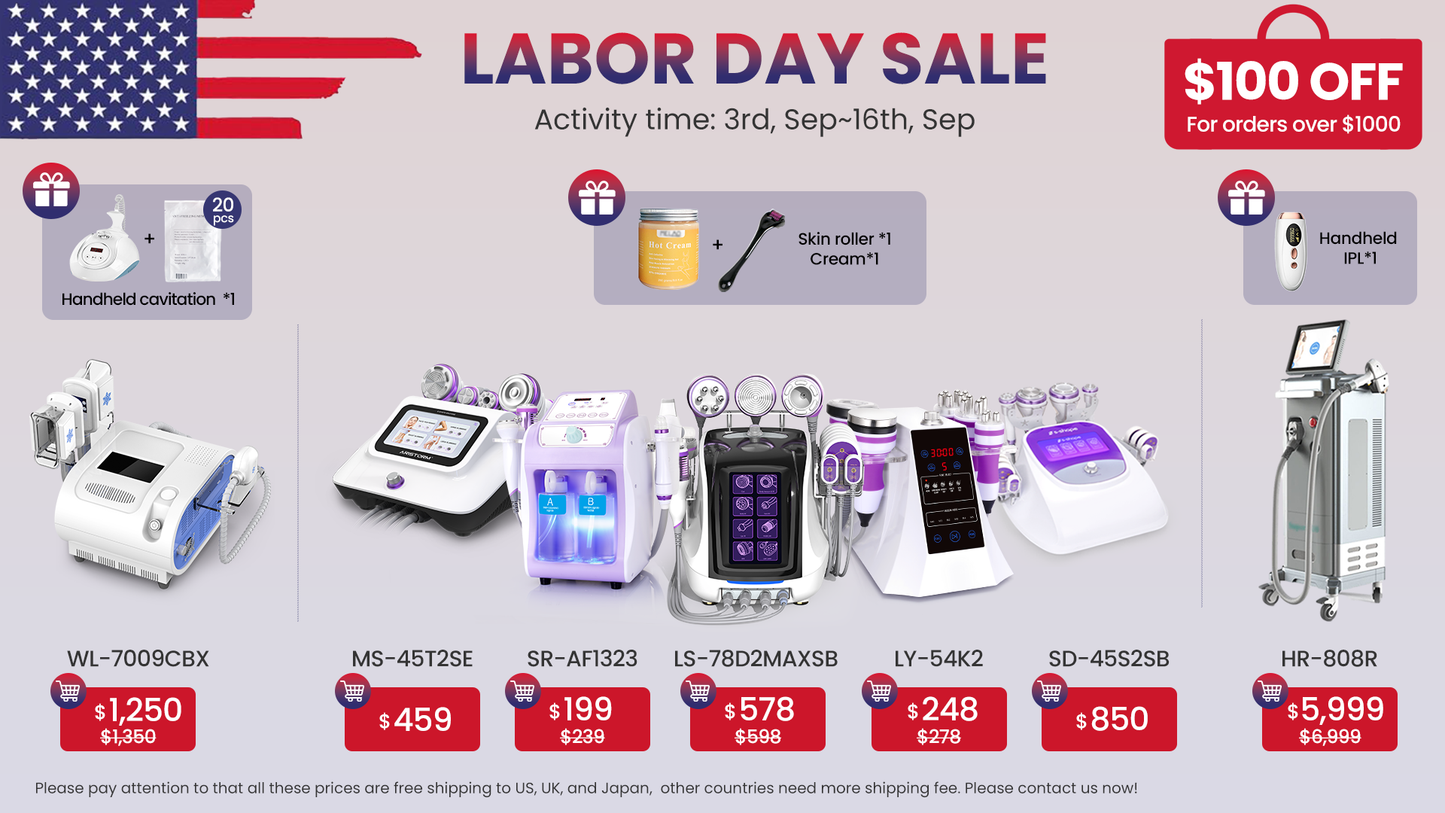 Unveil Radiant Beauty This Labor Day Weekend 2023 - Celebrate with our Labor Day Sales!
As Labor Day weekend 2023 approaches, it's the perfect time to celebrate the fruits of your hard work and treat yourself to a dose of self-care. What better way to do so than by indulging in our exclusive Labor Day sales on innovative beauty machines? Get ready to amplify your beauty regimen, because this Labor Day, we're rolling out exceptional offers that you won't want to miss!
When is Labor Day 2023?
Labor Day falls on September 4th this year, giving you the ideal opportunity to relax, rejuvenate, and reinvent your beauty routine.
Happy Labor Day - Elevate Your Self-Care:
We believe that every day should be a celebration of your dedication and achievements. This Labor Day, embrace the chance to pamper yourself with the beauty solutions you deserve.

Unbeatable Labor Day Sales on Beauty Machines:
Get ready to revitalize your skincare routine with our Labor Day sales. Our curated selection of beauty machines is tailored to help you achieve your desired look, whether it's radiant skin, toned contours, or a rejuvenated appearance.

Discover Radiance with Our Labor Day Beauty Machines:
Ultrasonic Cavitation: Reimagine body contouring and sculpting with our cutting-edge cavitation technology.

Radio Frequency Treatments: Experience the magic of skin tightening and rejuvenation, all within the comfort of your home.

Microdermabrasion Solutions: Unveil smoother, more vibrant skin through gentle exfoliation.

Laser Lipo Machines: Embrace non-invasive fat reduction and body sculpting for the radiant confidence you deserve.

Celebrate You:
Labor Day is not just a holiday; it's an opportunity to celebrate your journey and aspirations. Treat yourself to a beauty machine that reflects your dedication and rewards your efforts.

Elevate Your Self-Care Journey:
This Labor Day, seize the chance to explore the realm of beauty machines and redefine your self-care routine. Our Labor Day sales are designed to help you embrace your natural radiance, enhance your features, and celebrate the beauty that resides within you.

Don't miss out on our Labor Day sales - the perfect way to commemorate your achievements and indulge in self-care like never before. Transform Labor Day weekend 2023 into a celebration of your beauty and journey with our exceptional beauty machines. Embrace the power of innovation, science, and self-love this Labor Day!