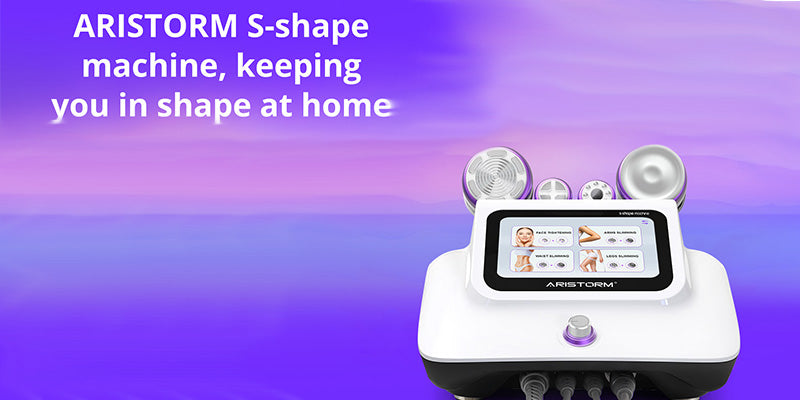 30K Cavitation Pro - Aristorm S Shape Machine
Are you still struggling to find effective but easy-to-execute ways for weight reduction? Did you ever hear about home-use 30k cavitation machines? Do you know these machines are a good choice for fat removal? They can replace traditional weight loss procedures like liposuction, an invasive and surgical treatment for weight loss.
Ultrasonic cavitation utilizes low-frequency sound waves to destroy fat cells, which results in size reduction on a treated body part. The treatment is non-invasive and requires less downtime.
We have launched a new type of cavitation machine: Aristorm S Shape machine, a cavitation machine that unites the advantages of 30k cavitation and RF. Below more information about the device will be indicated. Let's start our journey.
What are the benefits of an Aristorm S Shape machine?
The equipment boasts the following advantages:
With a 30k Cavitation Pro handpiece, a 30k cavitation&RF

handpiece

 and intense power, it can conduct double cavitation with more evident outcomes. It can target fat in the deep and shallow skin layers 
The equipment is convenient to set up and operate. If you haven't used the machine before and are not sure what energy level and time you should use, you can choose the program you want on the machine and it will have default settings. Of course, you can also adjust the energy and time yourself.
We will offer online training, including videos on treating a body part and a weekly online Q&A session.
Small size, more portable. Suitable for home and SPA.
What are the differences between Aristorm S Shape and Normal S Shape Machine?
1. Handles
 

Aristorm S Shape Machine

S Shape Machine

1 x 30K Cavitation Pro Handle

1x 30K Cavitation&RF Handle

1 x EMS&EL Handle

1x RF&Suction Handle

1 x 30K Cavitation&RF Handle

1 x Body RF&Suction Handle

1 x EMS&EL Handle

1x RF&Suction Handle
What is the role of vacuum? How will the changes to the new machine affect the function of the machine?
The main function of the vacuum handle is to massage the body, speed up blood circulation and metabolism, and the use of RF on the handle can achieve the effect of tightening the skin. The RF of Aristorm S Shape can helps with skin tightening, but if you value skin tightening more, the old S Shape works better. The vacuum handle of the Aristorm S Shape machine is gone, and there is a 30K cavitation function. The main function of cavitation is to reduce fat, so the weight loss effect of the new machine will be much better in comparison. 
2. Size
| | |
| --- | --- |
| | |
| Aristorm S Shape Machine | S Shape Machine |
| 11.8'' * 14.4'' * 6.9'' | 15.4'' * 17.3'' * 11.8'' |
3. Package
| | |
| --- | --- |
| |   |
| Aristorm S Shape Machine | S Shape Machine |
4. Customization Services
Aristorm S Shape and S Shape machine both can add a private logo, and it is a free service. But due to the size of the mainframe, we will not add lipo laser or other functions to the Aristorm S Sahpe machine.
FAQs
Q: What are 30k and 40k cavitation?
A: Ultrasonic cavitation is a non-invasive and non-surgical procedure for fat loss. According to the frequency of sound waves, cavitation machines can be divided into 25k, 30k, 40k, 60k, and 80k. Under these categories, 30k and 40k cavitation machines are trendier and widely used among those pursuing a slim figure.
The two cavitation machines utilize sound waves of 30k and 40k, respectively. That is how the names of 30k and 40k cavitation machines arise. They apply the same working principles. A cavitation machine uses sound waves to produce energy that can break down fat cells under the skin, changing them into glycerol and fatty acids. They are removed from the body through metabolism afterward. That is how it helps with weight reduction.
Q: Is there any noise when having cavitation treatment at home?
A: You may experience drumming in the ears when using the 30k and 40k cavitation handpieces. Ultrasonic cavitation produces strong vibration. Sound waves of a frequency higher than 20kHz (the upper limit of human beings' hearing capacity) penetrate the fat layer under the skin utilizing the ultrasonic focusing effect. The focused, powerful ultrasound forces fat cells to generate violent friction, leading to the cells' heating, breaking up, and emulsifying. Therefore, you may hear sounds during a session.
Q: Can I use the machine on my postpartum belly?
A: Those who did cesarean in the past six months, experienced a miscarriage in the past three months, or had natural labor in the past two months cannot use it.
Therefore, you must wait at least three months following natural labor or six months if you did a C-section.
The following people can also not use it:
Women in menstruation, pregnancy, or breastfeeding.
With diabetes, heart diseases, cicatrix, hyperthyroidism, or other severe diseases.
Those who just did surgery and are in post-op recovery.
Havemalignant tumors or hemophilia or experience serious bleeding.
With skin diseases or infectious diseases.
In an allergic period, with severely sensitive skin, or allergic to metals.
Just took plastic surgery or implanted something inside a treated area.
Just injected hyaluronic acid, did a skin booster, or had an injection for wrinkle removal or plastic surgery (do not use it on the face and neck).
With a heart pacemaker (or similar electric devices), stents, or metal implants.
The underage is prohibited from using it.
Information on presale of Aristorm S Shape machine
The presale will last from September 5 to September 15 (New York Time). The machine is priced at $458, with a shipping fee included. If you want to purchase it, you can avail of a $100 coupon during this presale period. The discount is not available after the period. Shipping will roll out after the presale ends. Get prepared and grab the chance to embark on your journey to slenderness.