This store requires javascript to be enabled for some features to work correctly.
Notice:
In stock from the US warehouse, shipping time is 3-7 days.


Remove Thigh Fat, Improve Dark Skin
Lift Buttock Contour And Elasticity
Burn Fat Cells, Remove Fat Belly
Tighten Arms, Remove Bat Wings Arms
Lift Facial Contour, Removal Wrinkle
Lift Eyes Sagging & Contour, Remove Eyebag Dark
Inventory update: 
In stock in US Warehouse, shipping time to US address is 3-7 days (9.23)
5-15 days to AU, EU, and UK.
We can provide
Free shipping to US.  

1 year warranty for the main machine and 3 months warranty for the parts such as handles.  ●Learn More Here

User Manual and Videos about how to install and how to use this machine
What Is Radio Frequency Unoiestion Cavitation 2.0?
Are you looking for instant Fat Reduction Without Invasion Surgery?

As we all know, the fat is stored in special cells, and Radio Frequency unoisetion cavitation 2.0 adopts the latest low-frequency wave of ultrasound cavitation 2.0 technology- unoisetion, to break down the fat cells into smapp particles and then metabolism it into a liquid focus on and destroy the fat cells in the target area.
The fluid is then easily removed from the body through the lymphatic and urinary systems.
Meanwhile, the high-frequency Radio Frequency also helps improve the elasticity of the skin in order to help body sculpting/shaping.

What can the Radio Frequency handle do?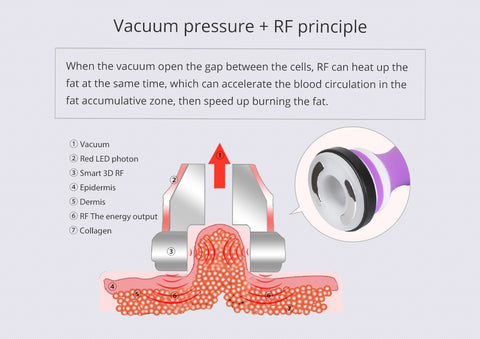 Benefits of the Radio Frequency Unoiestion Cavitation 2.0

Face: Lift facial contour, remove wrinkles, improve skin elasticity.
Eyes Around: Lift eyes sagging & contour/remove eye bags and dark circles.
Neck: Remove neck wrinkles, lift & tighten neck shape and contour.
Arm: Tighten arms, remove bat wings arms, and promote metabolism.
Waist: Burn fat cells, remove fat belly, and turn to a thin waist.
Buttock: Lift buttock contour and elasticity, creating a perfect buttock.
Thigh: Remove thigh fat, improve dark skin, tighten thigh.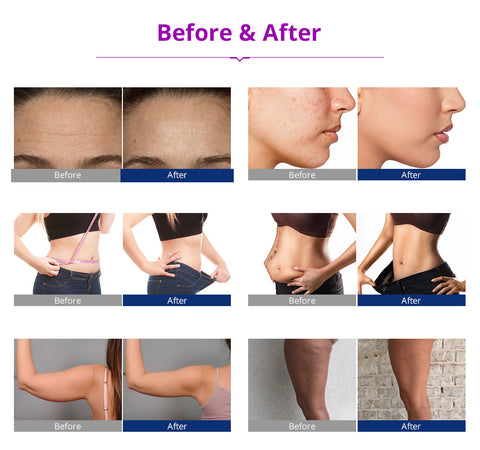 How Much Treatment Is Recommended?
We recommend at least 3-5 days must be allowed between treatments in the same area.
Many people asked me if only one part of the body can be treated each day.
No, not only one part of the body can be treated to get rid of fat, you can treat your belly, waist, arm, and thigh at the same time.
Remember to drink about 1 liter water within 1 hour before Radio Frequency Unoiestion Cavitation 2.0 treatment to help the liquid fat out of the body.
How Long Is Each Treatment?
It will take 30 to 60 minutes for each part of the body treatment, But it is not the same treatment time, the treatment time depends on the treatment, the area to be covered, and the amount of work required for non-surgical inch loss and body contour treatment.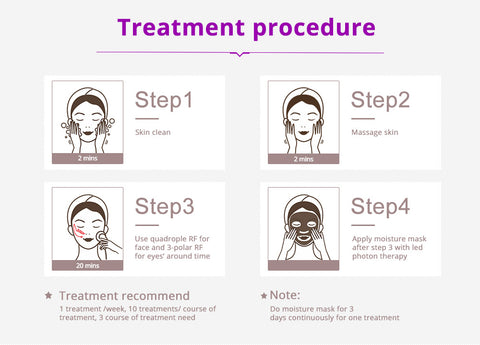 Specification
40K Cavitation Handle


Frequency:40KHz




Power:28W

6-polar Body Radio Frequency Handle


Freqeuncy:1MHz




Power:65W

Quadrupole Radio Frequency Handle


Freqeuncy:1MHz




Power:58W

3-pole Face Radio Frequency Handle


Freqeuncy:1MHz




Power:35W

Bipolar Vacuum Radio Frequency Handle


Freqeuncy:1MHz




Power:70W




Vacuum: <-73kPa




Pressure: >250kPa




Airflow: >10L/minute




Noise level: <70dB (30cm away)

Power: 190W
Dimensions: 26*24*33 CM
Net Weight: 5.05 kg
Gross Weight: 5.85 kg
Input Power: AC 110V/220V 50/60Hz
Display: Touch Screen

Package Listing
1 x 40KHz Unoisetion Cavitation Handle
1 x Vacuum Bipolar Radio Frequency Handle
1 x Three-pole Radio Frequency Handle for Face and Eyes' Around
1 x Quadrupole Radio Frequency Handle for Face and Body
1 x Multipolar Radio Frequency Handle for Body
1 x Power cord Power Supply Cord( Both 110v and 220v voltage (frequency: 50/60Hz) versions are available. Also we stock the USA, UK, AU, EU plug to suit for the country all over the world.)