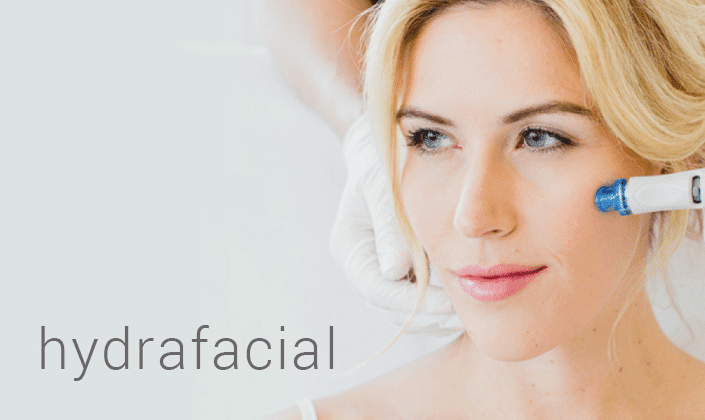 FAQs of HydroFacial Treatment
WHAT IS A HYDRAFACIAL?
An important step in any effective skincare treatment involves resurfacing the top layer of skin. One commonly known resurfacing procedure, microdermabrasion, uses micro-crystals to mechanically exfoliate the skin. While this method is very effective, it can also be irritating for acneprone or sensitive skin types.
To address these concerns, HydraFacial was born, using water as the exfoliating medium. This multi-step treatment uses a patented device to cleanse, exfoliate, and extract dead skin cells while bathing the skin in serums packed with rich hydrating ingredients, antioxidants, and peptides. In addition to this, you can work with your skincare professional to further customize your HydraFacial by incorporating add-ons or boosters targeting your specific skin concerns.

With high concentrations of potent ingredients, SkinCeuticals professional products can also be incorporated to complement and enhance the HydraFacial experience. The dermatologist-tested SkinCeuticals + HydraFacial Integrated Treatment amplifies the effects of the procedure by infusing the benefits of SkinCeuticals vitamin C serums, corrective solutions, and broad spectrum sunscreens. The treatment delivers additional hydration with minimized visible redness while providing improvement in the appearance of skin firmness, texture, and radiance.

HOW OFTEN SHOULD YOU GET HYDRAFACIAL?
A HydraFacial, like other beauty treatments, needs to be taken from time to time to see noticeable improvements in your skin. While some experts say that a treatment must be scheduled every four weeks, there are others who say that for results the treatment must be repeated every two weeks.

HOW LONG DOES A HYDRAFACIAL LAST?
Five to seven days.
The smooth results and hydration may last 5 to 7 days or even longer. We don't believe in quick fixes, so one treatment per month is recommended for improving the appearance of fine lines, wrinkles, brown spots, oily and congested skin.

DOES A HYDRAFACIAL REMOVE BLACKHEADS?
Hydrafacial clears up the pores. The patented vortex vacuum suction removes dirt and bacteria. It empties the dirt in pores and gets rid of blackheads. 

WHAT SHOULD YOU NOT DO AGTER A HYDRAFACIAL?
Refrain from any type of exfoliating treatments such as glycolic acid or enzymes to the area for 48 hours after your Hydrafacial treatment. - Avoid heat (hot showers, sauna, and intense cardio) for 24 hours after treatment.